Finance Your Service
Not having the money to pay for an automotive repair can leave you in a serious situation – without the money you can't get the repairs, and without the vehicle you can't make it to work to pay for the repairs. Or food, mortgage or daycare. And they often happen at the most inconvenient times – between paycheques.
PayBright can help. A simple application can allow you to get the money you need to fix your vehicle, and manage those unexpected auto expenses. Without a large one-time payment you can still receive the repairs that your vehicle needs while you make affordable monthly payments until you've paid off the repairs.
What will PayBright financing cover?
Financing will allow you to get the following repairs fixed, but this is not a complete list!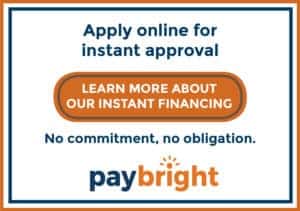 Breaks that need to be fixed or replaced
Broken suspension that needs to be repaired or replaced
Faulty exhaust
New tires, both winter, and summer
An engine that needs replacing
The repair of an unreliable transmission
Broken lights
Cosmetic repairs (new paint job etc.)
Can I just use my credit card to finance rapairs?
You may be able to, but if you're not able to pay off your credit card your interest can add to what your repair initially cost due to the high interest rates most credit cards have. When you have to charge a large, unexpected amount is often because you cannot afford to pay right away. When the next paychecque comes, you find that you still can't pay for the whole amount unless you don't plan to eat this month. Not paying off in full means that you have interest ballooning the initial cost of your repairs. With PayBright Financing, you set up your pay schedule in advance and have set payments every month without surprises or variable costs.